Sun Devils at Work: Making the most of Anheuser-Busch internship led to full-time job
5 minutes
Josey Jagelski is a senior graduating this spring with degrees in supply chain management and business data analytics from the W. P. Carey School of Business at ASU. Last summer, she interned with Anheuser-Busch and she'll be working full-time with them after graduation.
Find out how Jagelski landed her internship and what her advice is for other ASU students looking for internships and jobs.
Where did you intern last summer and where was it located?
I interned with Anheuser-Busch in their Oklahoma City sales office.
What was a normal day like at your internship?
I arrived at the offices at 8 a.m., grabbed my morning coffee from the kitchen and checked in with my supervisor. She would give us our agenda for the day, which usually included sitting in on the morning meeting with the St. Louis corporate headquarters, and the employees would give updates on their projects and the current sales market. Throughout the day I would update sales spreadsheets that included pricing and promotions of certain brands, and I also worked on my 10-week long intern project.
My project, which I presented to a board of vice presidents, included creating a sales reference booklet and tutorial to Anheuser-Busch's ordering application that would be featured in more than 500 customer accounts in Oklahoma. Throughout the 10 weeks, I also had the opportunity to ride along with sales representatives who showed me how we actually introduce new products to the market.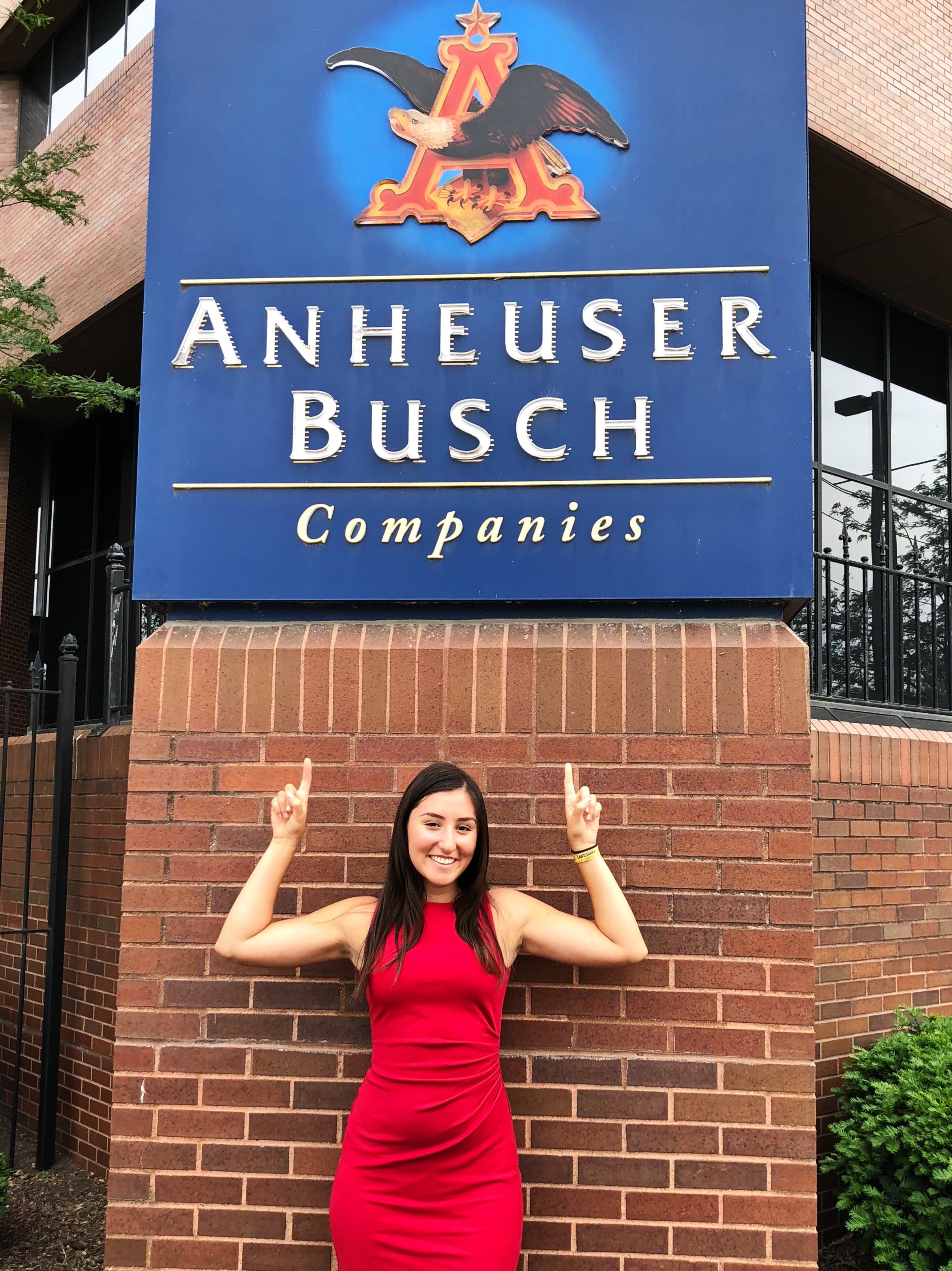 How did you get your internship?
I was searching ASU's Handshake site and saw that Anheuser-Busch was offering internships. I researched the company and decided to apply to their commercial sales internship. I went through a logical reasoning test and then a culture fit test. I moved on to the first round of interviews that were done through a webcam service. Less than two hours after completing that interview, I received an email that said I made it to the final panel interview in New York City. A few weeks later I was in their corporate sales office in Manhattan interviewing with a board of senior-level managers from across the country. Anheuser-Busch loves asking behavioral interview questions that show that you have done your research on certain popular brands. A couple of weeks later I received an offer letter for the internship and accepted it immediately.
What is the most useful/interesting thing you learned there?
Technically, I learned how to use their specific forecasting databases that will be very useful in my future career in the sales department. Being able to determine trends in the market for certain products is key to increasing sales and profits for the company.
Holistically, I learned that Anheuser-Busch is all about its company culture. It's not so much about where you came from or what you studied but what you are capable of doing. It's super common to see employees who started off in sales but are now working in human resources or procurement. Having a cross-functional structure has given employees endless opportunities and room for growth.
What is your upcoming full-time position and where is it located?
I am starting my career as a sales and marketing commercial trainee with Anheuser-Busch in St. Louis.
How did you get the position?
Ten weeks of learning, hard work and asking questions. At the end of my internship, I presented my project to a board of vice presidents from the North American region. Two days later, I received a call from my HR manager saying that I've been offered a position as a commercial trainee after I graduate!
What will you be doing there?
I will be going through an 8-month rotational management program that focuses in sales and marketing. I start with orientation in St. Louis that will introduce us to the overall company and we will start learning basic Anheuser-Busch management skills. I will then be placed in a distributor in either Los Angeles, Boston or Denver. I will be working with sales representatives and learning more about the different sales markets in my four months there. Then I will be learning about sales strategies in a regional sales office and then have a brand marketing rotation in Manhattan.
At the end, we present our capstone project to a selected board of vice presidents in New York City and graduate from the program! After that we will be assigned entry-level management positions in either sales or marketing departments around the country.
What are your tips for future interns to get the most out of their internship?
Ask questions and say yes to every opportunity. I asked my supervisor and the sales director every plausible question that came to mind and learned so much from doing just that. In my down time, I took online courses that quizzed me on facts about certain products and how we sell those products. I also reached out to my HR manager and she set me up with employees who also completed my internship in the past and I was able to have calls with these people and pick their brains on topics that were important to me. Not only did I get more insight about the company, but I networked with employees around the country!
Most important, don't get bummed if you make a mistake. That's what an internship is for—so we can learn from them and do better the next time.
What are your career aspirations?
I aspire to work more on the analytics side of a major corporation and work my way up to a senior-level management position. After I work corporate, I'd love to start my own business in the Pacific Northwest.