Meet your Council of Presidents: A Q&A with ASU West's Alexander Sojourney
2 minutes
This article is the first in a series of Q&As with ASU's current undergraduate and graduate presidents.
When junior justice studies and political science major Alexander Sojourney was young, his parents brought him along to local political rallies throughout Arizona. Even as a young child, Sojourney said, he "started having a passion for identifying problems and finding solutions."
Today, as Undergraduate Student Government President of ASU's West campus, he is guided by an axiom that his mother often said to him: "If you have a voice, then use it. If not you, then who?"
"That simple statement from her has always been something that I think about when leading," he said.
Sojourney spoke to ASU Student Life about his time as student body president of ASU's West campus and his experiences as a Sun Devil.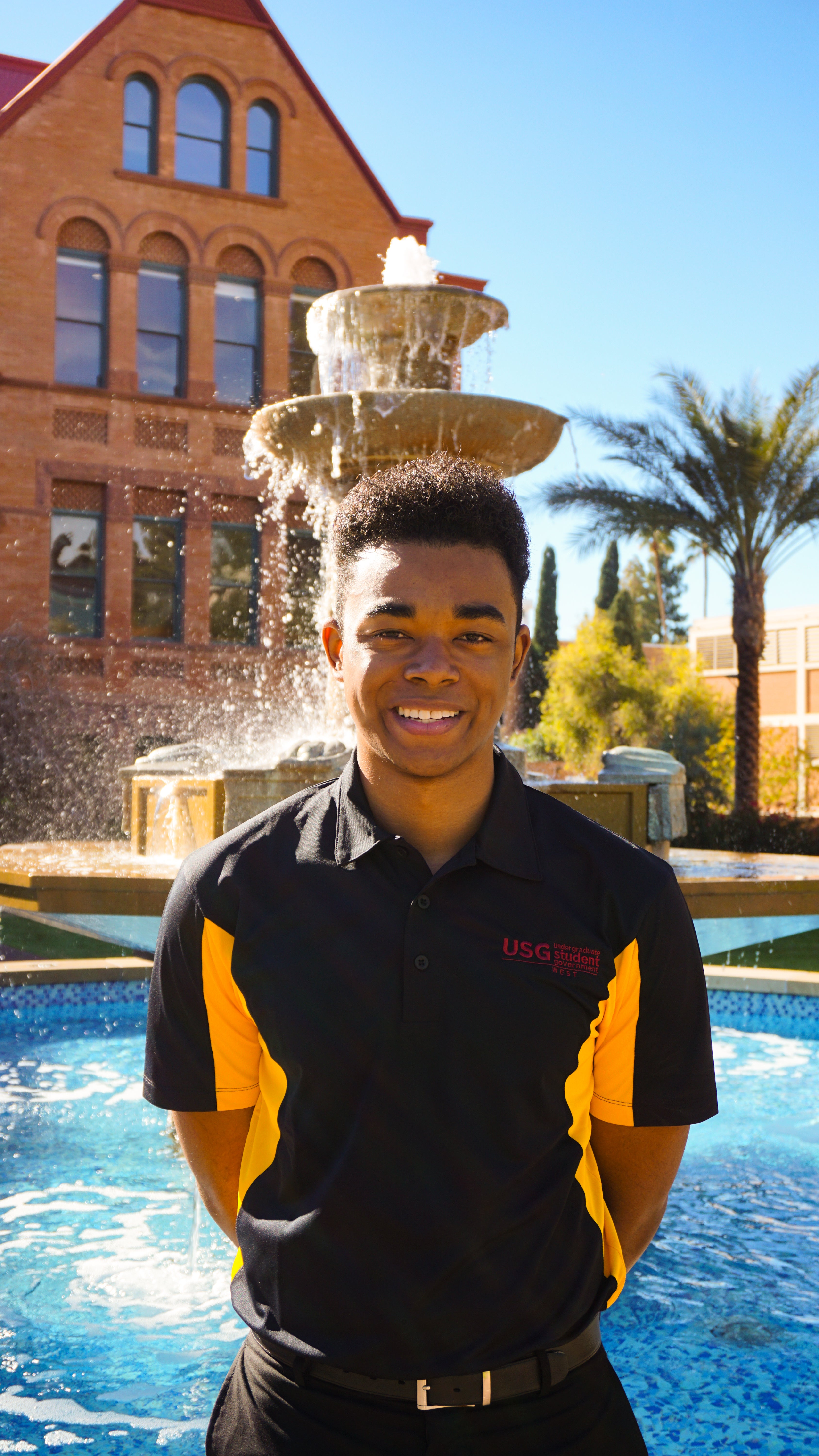 What do you love about your ASU campus?
I honestly love the community feel of the campus overall. The atmosphere of the West campus is so laid back yet so welcoming and inviting. For example, when I walk across campus, I will run into at least four people I know every day! That feeling constantly reminds me of how much of a home and community the West campus really is.
What do you wish everyone knew about your ASU campus?
I like how you can go to one side of the campus [from the other] without losing your breath. Here at the West campus, everything is within walking distance and you can get anywhere you need to go in less than 10 minutes' time.
Which project have you been most proud of in your time as president?
I am most proud of the West Express, the direct shuttle connecting Tempe to West. It was implemented in fall 2018 and has exceeded our initial expectations on the number of daily rides.
It surpassed 45,000 rides the first semester alone! Knowing that it helps so many students, faculty and staff really reminds me how important our voice is in representing the collective student body.
Where are you from?
I was born right here in Glendale, Ariz.
What are your plans after graduation?
I am attending law school after graduation.
Why did you choose ASU?
Barrett, the Honors College, is why I chose ASU. Barrett is nationally ranked and is very competitive with Ivy League schools.
What's your favorite memory at ASU so far?
The connections I have made with students and faculty. The friends that were made during my time at ASU, I can say with confidence, are lifelong friends. From the Council of Presidents to our advisors, everybody has been helpful every step of the way.