ASU adaptive athletes and coaches take it one step at a time
For Sun Devils who have disabilities, not every fitness center has the equipment or staff to can help adaptive athletes make progress in their movement, strength and endurance. But one ASU program offers student coaches and athletes the chance to connect over adaptive recreation and reach goals they may not have realized they could accomplish.
ASU's Devils Adapt program gives Sun Devils and athletes with disabilities the opportunity to partner together and coach each other through a series of workouts. The free training program focuses on improving the physical and mental strength of adaptive athletes while allowing them to build community and have fun.
The adaptive training class was developed through a partnership between ASU and the Adaptive Training Foundation. The class included training for instructors and athletes and the addition of a new Adaptive Training Zone at the Sun Devil Fitness and Wellness Complex on ASU's Tempe campus: a room with accessible and adaptable equipment.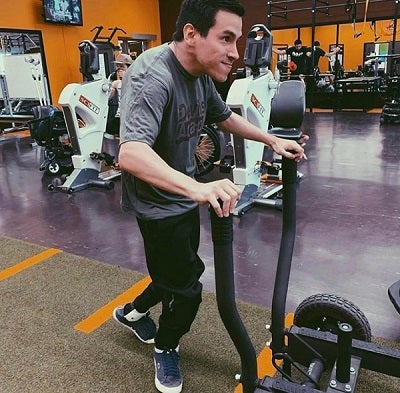 "It's a program where you can find friends, strong relationships and have a community that is a support system," said Victor Ocando, current Devils Adapt athlete and member of the first Devils Adapt group formed in 2018. 
The training takes place over a nine-week period every semester in the Sun Devil Fitness and Wellness Complex on ASU's Tempe campus. Athletes meet three to four times a week to work out in a group setting. 
James Bockas, who graduated in 2020 with a master's in exercise and wellness, was the former head coach of Devils Adapt. He describes the program as "semi-private training." This is because although all the athletes work out together in the same room, each athlete's workout is designed specifically for them and their goals.
As head of the program, Bockas worked to provide overall guidance and help to the athletes. His main goal was to develop a structure that would continue the program in the long run and build a community for all those involved. 
"For somebody in my position it's a pretty big role for me to basically help put a long-term program together, give it out to multiple individuals and be able to coordinate that and mentor them throughout the entire session," Bockas said. 
According to Bockas, as the program rose in popularity due to an increase in athletes, so did the community. 
"I definitely felt a little bit more of a community aspect increase. We really did build quite the intertwined community or family," Bockas said.
Any interested student can join the program as a trainer or athlete. Athletes don't have to attend ASU to participate in the program. 
"If you are even the least bit interested you should do it, either as a coach or as an athlete," Bockas said.
According to Ocando, Devils Adapt helped him overcome physical obstacles, including maintaining his ability to walk. 
"For me, I wasn't able to do many steps or even one step before I got in the program, and by the end of the first program I was able to do four steps on my own," Ocando said.
Ocando was born with spastic diplegia cerebral palsy, a neurological condition that hinders muscle control and coordination. To maintain the ability to move his muscles, Ocando needs to consistently exercise his muscle movement. Through Devils Adapt, Ocando was able to maintain and improve muscle movement throughout his body.
"Our trainers, they change our lives by helping us overcome obstacles. The program helped me a lot because I was able to achieve many things. I can say now that I am an athlete," Ocando said. 
Ocando discovered the program on social media soon after moving to Arizona from Venezuela. 
"It's like my second family here. I've been able to have a support system and friends who have become very close to me," Ocando said.
Although the program is designed around fitness, students and athletes also participate in team-building activities.
According to Bockas, some activities include adaptive rock climbing, golfing at Top Golf, solving escape rooms, listening to guest speakers and an end-of-the-semester ceremony.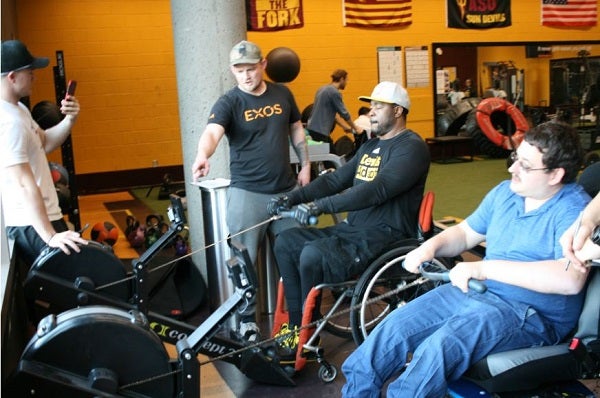 "When I first started I saw it more as just a job. It slowly becomes more of, these are your friends. You get out of it what you put in, and that goes for both the coaches and the athletes," Bockas said. 
Post-graduation, Bockas aims to continue working with adaptive athletes in a military environment or working on tactical strength and conditioning with military personnel. Ocando will continue to support Devils Adapt by carrying on his tradition of not missing a semester since he joined the program in 2018.
To commemorate Ocando's dedication to Devils Adapt and dedication to overcoming his obstacles, one of the program's semester awards, the Victor Award, was named in his honor. The award is presented to a victor, or person who overcomes an obstacle while showing leadership and perseverance.
More information on the Devils Adapt Program can be found on the Live Well Adaptive Recreation site. Updates are also posted on Instagram.
Applications for the fall 2020 Devils Adapt are open. For more information about participating this semester or in a future semester, email Courtney Spivak Smith at Courtney.Spivak@asu.edu. Learn more about the history of adaptive recreation at the Adaptive Recreation at ASU virtual event on October 14 from 6 to 7 p.m., part of ASU's celebration of the 30th anniversary of the Americans with Disabilities Act.
5 minutes