ASU grad used her passion for science to determine her future
6 minutes
Seniors spend their last year of college making memories and creating once-in-a-lifetime experiences before they graduate and head into the career world.
Biological sciences major Chloe Breger, 21, used her last year at ASU to give back to children in the community. 
Last summer, as her senior year was right around the corner, Breger discovered Eye to Eye. Eye to Eye is a national organization that focuses on helping the 1 in 5 children who have a learning difference by pairing college students with middle-school children who have the same or a similar learning disability.
Breger decided to implement this program at ASU through her Barrett, The Honors College project and pitched it to the Disability Resource Center. With a financial deadline fast approaching and numerous closed doors, Breger found success. 
"After sharing a proposal that was emailed just before the meeting, a PowerPoint including the results of a previous Eye to Eye study and pitching the idea for the mentorship program, leaders responded positively. The leaders recognized the potential benefit of such a program at ASU and my passion for implementing it that they immediately signed the financial commitment letter," Breger said. 
Under Breger's guidance, Eye to Eye at ASU has grown into an organization that has impacted many young students across the Valley. 
"My hope is that Eye to Eye at ASU will continue to inspire students who learn differently and help them realize the amount of potential they have to succeed," Breger said.  
Along with her accomplishment with Eye to Eye, Breger also completed her degree with Barrett honors recognition and was a member of the Omega Phi Alpha sorority, where she participated in many philanthropic projects and became a part of "an incredible family for life." 
With her undergraduate experience now complete, Breger looks forward to starting her master's program this fall as well as continuing her passion for helping K–12 students. She will work with Teach for America, teaching secondary science.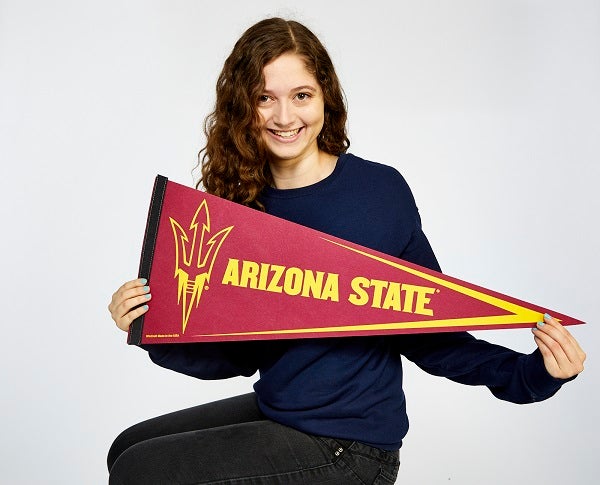 Question: What was your "aha" moment, when you realized you wanted to study the field you majored in?
Answer: I have always enjoyed learning about science. I find it fascinating to study the complexity of the brain, such as behavior and how organisms react and respond to different situations. I chose my major prior to starting freshman year and have not had a single regret. I have enjoyed every class and am excited to pursue a career in the sciences.
However, originally my minor was in statistics and after a year, I felt it was not the right fit. Sophomore year I decided to take a few different classes that interested me, one of which was a class in criminology. Immediately, I felt a deep connection to the concept of helping people before they are confined to prison and choosing a life of crime.
Q: What's something you learned while at ASU — in the classroom or otherwise — that surprised you or changed your perspective?
A: Upon taking a Food and Human Health Course, I learned the importance of nutrition and changed my entire lifestyle for the better. I ended up implementing a healthier lifestyle by simply utilizing these new lifestyle choices and definitely recommend this class to all. I learned so much and feel nutrition is vital for everyone to get proper nourishment and continue to be healthy.
Q: Why did you choose ASU?
A: ASU has wonderful educational programs, stellar research, allowed me to remain close to my family and offers so many additional opportunities. I was excited to branch out and meet other outstanding individuals. ASU has been an incredible experience and a remarkable school for my undergraduate degree.
Q: Which professor taught you the most important lesson while at ASU?
A: James Adams, my thesis director, who is also the head of the Autism/Asperger's Research Program. I started working for the lab during my junior year. Dr. Adams is so understanding, humble and kind despite having accomplished so much. Additionally, as my thesis director, he was always there to support me along the way. He is someone I admire and look up to. I am extremely grateful for all he does for the autism community.
I am also grateful for my second thesis committee member, Pamela Harris, who was also extremely supportive throughout my thesis project. Dr. Harris' intuition, guidance and insight were so helpful.
I also appreciate Jason Garcia, a Disability Access Consultant for the Disability Resource Center at ASU, who always had my back and provided me with the necessary support to be successful … and so many more who truly are what make ASU special.
Q: What's the best piece of advice you'd give to those still in school?
A: No matter how you learn or what you enjoy, never forget how much potential you have to be successful. As Einstein said, "Everybody is a genius. But if you judge a fish by its ability to climb a tree, it will live its whole life believing that it is stupid." 
Study what you love and enjoy your life. We are not here to do what others think we should do; we are here to make our own unique contribution based on our personal interests.  
Q: What was your favorite spot on campus, whether for studying, meeting friends or just thinking about life?
A: At the Tempe campus, in the Wexler building on the third floor, there is an outside area with tables under shade. It is usually not very crowded and when the weather is nice, it is a relaxing and calming study area out in the fresh air.
Q: What are your plans after graduation?
A: I am so excited to be a part of Teach for America in Phoenix for the next two years! I plan to use my ASU education as I teach secondary science and complete a master's program at ASU. My goal is also to learn more about the challenges and needs within the educational and health care systems before pursuing a medical degree. I hope to have a positive impact on youth through TFA.
Q: If someone gave you $40 million to solve one problem on our planet, what would you tackle?
A: If given $40 million dollars to solve one problem, I would tackle education equity. I believe education is so powerful; in a sense it gives people the tools needed to create a successful future. Education can be used to teach people about school, nutrition, socio-emotional skills, medical practice techniques and more. Education gives people so much more than supplies and materials, it gives them the opportunity to create a better future and life for themselves and their family, friends and community. All people deserve the opportunity to have a stellar education, and I am delighted to be a part of the educational equity movement through Teach for America!