ASU Online grad finds her dream job at the ACLU of Nevada
Four years before landing her dream job at the ACLU of Nevada, ASU grad Jordyn Chamizo was attending a community college in San Diego, unsure about her future when it came to pursuing a four-year degree. Chamizo began working as a barista at Starbucks, where she learned that she had the opportunity to earn her four-year degree online thanks to the Starbucks College Achievement Plan, which allows Starbucks partners to become Sun Devils from almost anywhere and on their own schedule. 
In her time at community college, Chamizo was studying journalism. The Honolulu native had discovered a passion for writing and journalism in high school, though she struggled to see what her future in this industry would hold. When she transferred to ASU, Chamizo enrolled in the Walter Cronkite School of Journalism and Mass Communication, but she wanted her studies to go beyond journalism and focus on media more broadly. In spring 2021, Chamizo graduated with a bachelor's degree in Mass Communication and Media Studies.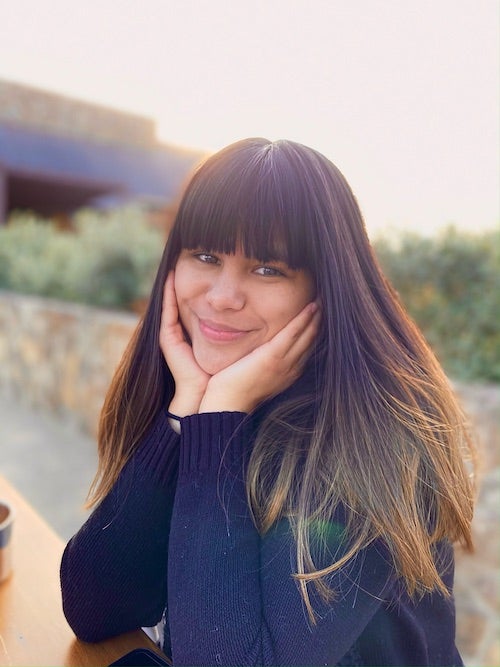 Finishing her degree online gave Chamizo the flexibility to move to Las Vegas, where she has spent the past two years. In addition to living wherever she wanted, Chamizo was happy to have the flexibility to work whenever she wanted and fit her school schedule in around her work schedule. 
"Most people have to plan work around school and that can get really exhausting. I remember being [in community college] and falling asleep in classes, because I was just so exhausted from work the night before," Chamizo said. "I think it provided a better sense of work, life and school balance."
According to Chamizo, attending classes online also helped her succeed as a student by allowing her to work at her own pace. She felt that the professors were just as attentive — if not more so — than if she were to have been in person. 
As a Cronkite student, Chamizo took an opportunity to make her educational experience her own. She wanted to become an agent for positive change and took the opportunity to enroll in classes related to race, gender, class or sexuality. 
"I really just like the way that media is used in different aspects of our communities. I really just wanted to be able to use all communication forms in order to make social justice and political change," Chamizo said. 
Now that she has graduated, Chamizo has been able to translate what she has learned into a job at the ACLU of Nevada, where she has worked since February 2022 as a digital communications associate. This position is what Chamizo has considered to be her dream job, and she feels that she has accomplished her 5-to-10-year plan in only a few short months. 
"It's so nice to be able to do something that is so free in a way. It's a place where you can be creative and not have to follow a specific set of rules," Chamizo said. "I'm very content where I am. I've done the thing that I wanted to do and I became what I wanted to be at 22 that I thought I would be at 27."
As a digital communications associate, Chamizo manages the ACLU of Nevada's social media. One day, Chamizo's work might require her to attend an event on behalf of the organization such as a Las Vegas mayoral candidate forum. She would livestream the event and help create flyers and posts to encourage local citizens to go and engage with the candidates. Another day, Chamizo could be making TikTok videos explaining local cases that the ACLU of Nevada has been involved in. 
"With communications and with my job in general, every day is something different. There's always something new coming up," Chamizo said. "Sometimes we have to be reactive to new news articles or new bills that are being proposed or any of that stuff, and so every day can be different. I have set out plans, but at the same time I have to be reactive to other things that are going on in the world, and so sometimes those plans are put on hold, but it's fun."
Chamizo's journey to the ACLU has made her proud to be a Sun Devil, even from a distance. According to Chamizo, now that she is an alum, she feels even more connected to the school knowing that she'll always be part of the community.
"Being a Sun Devil makes me proud because of the fact of how I did it. There's such a community of people who come together, knowing that they went to the same school, as each other and have the same common goal. I really love how interactive ASU is with the community in general. I still get magazines in the mail, and I still get monthly updates about things like what's going on at ASU," Chamizo said. "It's funny because I felt more like a Sun Devil after I graduated. The fact that I am made to feel like a Sun Devil after graduation, I think, has a much greater effect."
4 minutes