Bringing a humanities approach to a hackathon
In 2013 Project Humanities, led by Neal Lester, an English professor at ASU and the founding director of the organization, launched the first Hacks for Humanity hackathon. During the annual, 36-hour event, people from all occupational backgrounds team up to create a tech product for social good. Oct. 19–20, Project Humanities will be hosting their sixth hackathon. 
The idea of a hackathon is not new. However, Project Humanities' version is innovative and human-focused. Hacks for Humanity isn't just for tech gurus and math mavens. Everyone is welcome. Artists, engineers, performers and even high school kids are encouraged to participate. 
Project Humanities' hackathon is for humanists who want to make the world better even if they don't have coders or coding skills, said student outreach and communications coordinator Rachel Sondgeroth, who is a senior majoring in religious studies and global studies at ASU. 
"I think the fact that this is an interdisciplinary hackathon makes it more likely to generate social change than just, for example, a hackathon that's only for coders, and it has a humanistic tie," Sondgeroth clarified.
This year's topics of focus for the event are food, finance and family. Every year, participants create technology around Project Humanities' seven principles: compassion, empathy, forgiveness, integrity, kindness, respect and self-reflection. Above all, the projects create and foster connection and "human ties", said Lester. He believes humanities is not a "study of," but human to human connectivity.
Inclusivity is Project Humanities' secret weapon, but in this field it is also their biggest challenge. Hackathon culture is intense. Teams travel the world to compete for prizes. Entering the tech or hackathon community without a tech background is daunting. To disrupt the norm, Project Humanities has team requirements. They want to make sure teams are not solely compiled of one occupation or profession. All the entrepreneurs can't be on one team. All the engineers can't be on one team. Diversity is key.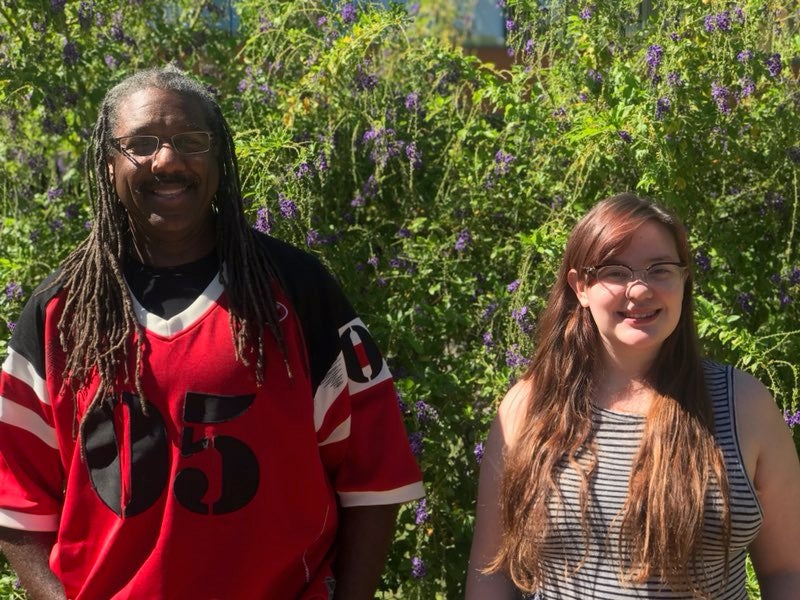 Sondgeroth said her job in a nutshell is to "get butts in seats," but that's not all she does. She deals heavily with internal structure. These are the things attendees are oblivious to at almost any event. Sondgeroth sets up participant Slack channels, program folders and submission protocols. She's also the person who analyzes the operations of the hackathon in hopes of making improvements for years to come. 
As a high school speech and debate student living in Fort Hood, Texas, Sondgeroth stumbled upon Lester's work while researching the topic "are we losing our humanity?" 
"I emailed him asking for resources, and he's really good about roping people in," she said. "That started a collaboration that blossomed into me being a blogging intern." 
That was Sondgeroth's junior year of high school. Project Humanities' first hackathon was hosted during her senior year. She wasn't intrigued by the idea of the hackathon at first.
"I was a high school student who wasn't into tech and, I was like, I can't imagine why someone would want to go to this who's not into tech," she explained. "I realized over the past couple of years when you hear hackathon you really think [it's] for coders, but I think that's [why] this hackathon is really important."
Through all the highs, lows, thousands of pages of waivers and lack of coordinators, Sondgerorth has been involved ever since. She knows Project Humanities' seven principles to be genuine.  
"I truly do believe that we all share compassion, empathy, forgiveness, integrity, kindness, respect and self-reflection. I believe that the kind of conversations that we're having at Project Humanities are really important," she said. "I mean just last night we did an interfaith program where we had pagans and atheists and Satanists and all these other different folks here together ... We're able to dispel myths about that." 
Aside from the work, Sondgeroth has been able to lead and professionally develop because of her role. 
"It'd be different if I didn't have a lot of say in what work we're doing," she said. "But every year we sit around each other and we're like 'What conversations need to be had?' We'll just pop stuff off and those become events."
Most important, she credits Project Humanities, ASU and our charter for helping her become the person she is today. 
"I owe a lot of my formation as a young person to Project Humanities. ... I was raised in a multi-ethnic family so privilege and bias was a context I was aware of but I didn't start really deeply thinking about social issues until after I started working here." 
At the end of her many years here, she only wishes she were able to participate in the event she helps create. 
"I've been working with Project Humanities in some capacity, so I've never been able to participate but I really wish I could one day," Sondgeroth said. "I'd totally win." 
If you want to join the conversation or you are interested in attending Hacks for Humanity check out the Project Humanities site and the Hacks for Humanity site.  
4 minutes