Empowering sexual assault survivors through dance
Graduate student Sumana Mandala has spent her 20-year career as a dance teacher breaking down barriers for herself and her students through Indian classical dance. Mandala continues to do so while in pursuit of her Master of Fine Arts in dance at ASU. 
Mandala, who specializes in an Indian classical dance called Bharata Nrityam, spent more than a year working on her MFA applied project, titled "Look Into My Voice, Hear My Dance." Her project was performed over two nights on Feb. 29 and March 1 at Hackett House in Downtown Tempe. 
Mandala was awarded a grant by the Sexual and Relationship Violence Prevention Program at ASU. 
The Sexual and Relationship Violence prevention program not only provided Mandala with funds but also with a number of additional resources. According to Mandala, the program helped with providing rehearsal spaces, counselors, marketing and survey question development for the event.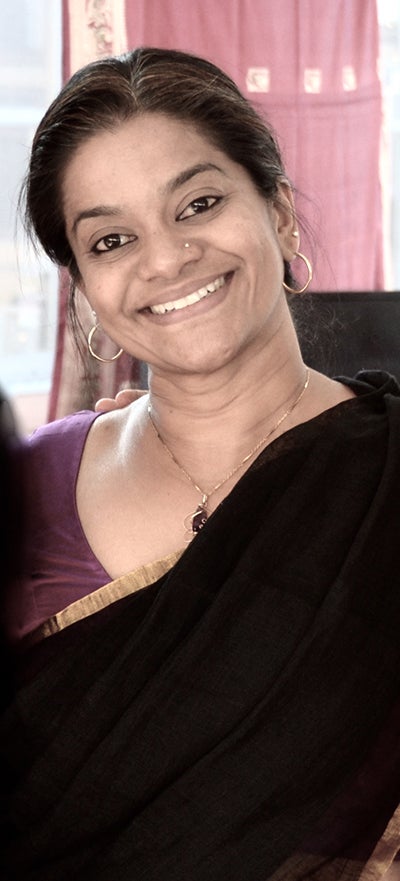 "The project itself dealt with telling the stories of survivors of sexual and domestic violence on their terms," Mandala said. 
Mandala's focus on this topic was inspired by her experience of connecting her Indian culture and her American culture as both a dancer and teacher. 
"One of the things that really struck me was that there was this tug-of-war in bridging the two cultures, especially issues of gender and gender oppression," Mandala said. "Girls are being brought up to be strong, intelligent and well-educated, but at the same time by some farcical version of culture, they're not allowed to talk back or they have to listen to their brothers or fathers."
According to Mandala, this was an experience she shared with many of her students. She decided to use the dance form to teach her students to claim ownership over their own bodies and express themselves.  
"Not only should they be allowed to express themselves within their communities, they should also be able to use their bodies and mode of expression to be a part of a larger community. That takes courage as well, being vocal outside," Mandala said. 
She understood that in order to reach a larger audience, she and her dancers would have to take an activist lens to their work. 
"However small their role might be, they have something to say and something to contribute. That's why I chose sexual and domestic violence as my topic," Mandala said. 
Mandala's experience teaching has been with students of all ages, some as young as five. She has taught adults who are already familiar with other dance forms, as well as Bharata Nrityam dancers who wish to improve. Mandala hopes to help expand the horizons of her students through this project and the lessons it teaches. 
According to Mandala, many of her students grew up in traditional Indian communities or families and as a result, were not always used to discussing or hearing about gender oppression and violence. 
"Now, they're having to not only speak to a survivor, but they're having to find it in themselves to be able to express it, find the empathy and find what they might be able to relate to," Mandala said.  
Bringing awareness to sexual and domestic violence is nothing new for Mandala. In the past, Mandala has worked with the Arizona Coalition to End Sexual and Domestic Violence as an advocate for survivors. Mandala's sister and mother have also worked for various groups fighting to prevent sexual assault and domestic violence, making this form of activism a sort of family affair for Mandala.
Mandala said she believes that working to prevent sexual and relationship violence is a "community issue, and it starts with basic respect for a person or for one another at a young age."
For this reason, Mandala has used her platform as a dance teacher within her own community to help teach this lesson. Mandala then translated this effort into the focus of her MFA applied project and thesis. 
"Nothing seemed to fit, this Indian classical dancer going into a Master of Fine Arts program in dance, where people were mainly doing ballet, modern or postmodern contemporary dance," Mandala said. "People couldn't see me as part of the program, they would say, 'Well, you have to learn ballet'."nThis project put Mandala one step closer to finishing her graduate degree, which she began nearly three years ago. Mandala said she had been thinking about getting her master's for many years prior to starting at ASU. 
After having spent the last 20 years moving around the country, Mandala moved to the Phoenix area five years ago, when she decided to look into ASU's MFA program. She met Professor Naomi Jackson, who helped Mandala create her own unique path. Mandala was looking to learn more about the history of Bharata Nrityam.
According to Mandala, Bharata Nrityam was developed in the 1970's by Dr. Padma Subrahmanyam. The dance takes influence from a traditional dance form from the Natya Shastra, an ancient treatise of the arts. It uses traditional dance sequences that allow it to stand apart while also being a recognizable form of Indian dance.
"The professors and the department were able to support me in my own research and journey. They were able to respect and uphold my dance form as well. Not only have I grown as a dancer, I've been able to grow as a dancer in my dance form with guidance from the faculty at ASU," Mandala said. "I don't think there are many programs in this country that would allow an Indian classical dancer to come in and do her MFA in dance and still leave as an Indian classical dancer."
According to Mandala, she was also drawn by the dance program's "strong affinity for social justice programs and community engagement."
After completing her MFA, Mandala hopes to continue teaching with more of an activist lens and supporting her students' activism through dance.
5 minutes