Fall Welcome highlights, according to Sun Devils
Of the 77,000 students who started classes in person last week, many of them had not yet experienced the time-honored traditions that launch the ASU journey for most Sun Devils. And it's not just the largest ASU class of first-year students — more than 14,350 of them — who enjoyed fall Welcome for the first time. Second-year students returned to experience many ASU traditions for the first time as well.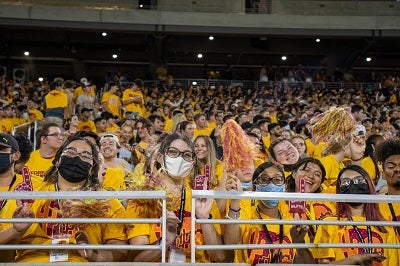 For first-year finance student Max Hackert, arriving on campus has been a mixture of nerves and excitement. Of all the campus events she's experienced so far, her favorite was the Welcome event at Sun Devil Stadium on Aug. 17.
"Just because it was like all freshmen and just, I don't know, it felt like the first real event since COVID," she said. "So I'd say that was my favorite, but everything's been wonderful on campus."
Starting with ASU Move-In, Fall Welcome is a time for new students to get to know their new      Sun Devil family, prepare for the start of classes and get involved with the many opportunities the ASU community has to offer. Some of the signature programs and events that students enjoy are Sun Devil Welcome, a spirited pep rally and welcome ceremony rolled into one; residential community festivals such as Taylorfest and Summersetfest; Sparky's Day of Service; Passport to ASU, a club fair for ASU's more than 1,000 student organizations; Echo From the Buttes, where students paint the "A" on "A" Mountain white; cultural coalition welcome events and much more. 
One of the big hits of Welcome Week was the fall concert, InfernoFest, which took place right after Sun Devil Welcome at the football stadium. 
"My favorite on campus event was Jack Harlow," said pre-dental biological sciences student Amar Hammad. "It was a really fun concert."
Hammad was excited to be in the front row with his college for the concert, during which Harlow scaled a wall and walked into the crowd to huge cheers from Sun Devils. 
Hammad said Fall Welcome is a good time and an opportunity to get to know people on his floor and meet people with the same interests. As he prepared to start classes he said it's a nerve wracking but exciting semester.  
"Honestly, I'm most excited to interact with students again and teachers, just like how it was before. It was obviously an adjustment for online learning. So I'm glad things are getting back to semi-normal. And I'm just excited to go to class again," he said. 
Welcome events will continue into September, including cultural coalition events as well as the first home football game on Sept. 2.
Reporting by Devon Baggot and Connor Newton, Sun Devil Storytellers
3 minutes