GPSA president aims to enhance the student experience
For third-year law student and Graduate and Professional Student Association President John Oyas, student government has always been part of his school experience.
After being involved with the student council in high school and ASU's Tempe Undergraduate Student Government, running for Graduate and Professional Student Association president only seemed natural. Oyas's term officially started in May of 2020.
"My goal this year is truly to elevate how we advocate and provide services to the students," Oyas said.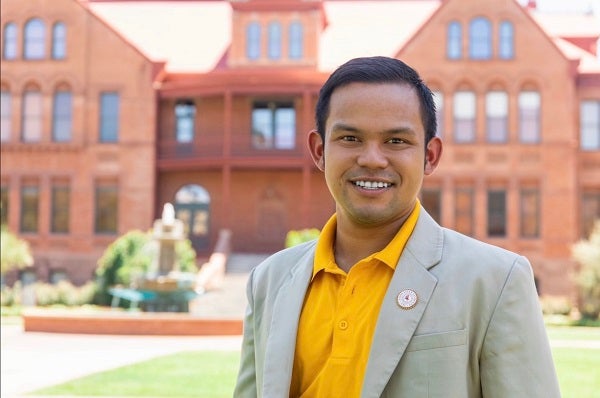 His main focus is to fix a lack of engagement with the professional community, including law students and MBA students. 
"My job as student body president is, really for me, it's about being the advocate for what the GPSA Assembly decides, and I basically become the messenger of their message and the policies they want to advocate for the university administration," he said.
According to Oyas, he plans to look at how GPSA has advocated for students in the past to improve the system for the future.
This year Oyas will especially strive to advocate for traditionally underrepresented students such as student parents and veterans. 
"One of the big issues I am kind of working on right now is trying to provide equity and opportunity for students who are parents," Oyas said.
Oyas plans to give more support to student parents and veterans by increasing resources available to them on all campuses. He also intends to help all students with unexpected expenses due to COVID-19 by creating more resources within the GPSA budget. 
Oyas said that one of his personal goals is to be the person people can approach if they have a problem that needs to be solved. 
"I want to help people as much as I can and seek ways to make their lives better," Oyas said.
Oyas moved to the United States after graduating high school in Cebu, Philippines, and decided to attend ASU to stay close to the family he had in Arizona. As an undergraduate student Oyas studied economics and was involved with the Residence Hall Association, Tempe USG and Greek Life.
His inspiration to advocate for students comes from his Jesuit formation. 
"I grew up attending a Jesuit school. The value being a man for others and doing more and being more has always been my inspiration to be a leader and do more for the community," Oyas said. 
When asked what advice he would give to anyone interested in running for GPSA Oyas said "just run." 
"I think it's a good way to just get your voice out there. To be able to run is to not only be able to tell a story of what needs more representation but it also gives everyone an idea of what student government should look like," Oyas said.
According to Oyas, when he was running for GPSA he was running on a platform that was all just ideas. Now he gets to see those ideas become a reality. 
"My favorite part about being president of GPSA so far is currently now just seeing how my platform is coming to flesh," Oyas said. 
"We are a student organization that advocates for graduate students. You can always have an ear that will listen to your concerns and create reasonable and time-bound solutions to alleviate your concerns," Oyas said. 
"I really hope that when my term ends I have included, elevated and engaged as many students as I can," Oyas said. 
More information on GPSA can be found here. Daily updates can be found on Instagram, Facebook and Twitter. 
3 minutes