Join fellow Sun Devils and champion how you will Change the World in 2023
Change the World is back at Sun Devil Stadium for 2023 and promises ASU students the opportunity to share their vision to make the world a better place through art, entrepreneurship, innovation and good works. 
Join fellow Sun Devils on March 15 from 5-7 p.m. for this innovative showcase of student imagination, featuring live performances, interactive solution exhibits presented in an engaging atmosphere where students celebrate and demonstrate how they will change the world. Register to pitch ideas, exhibit solutions, perform and display works of art until Feb. 17. 
For Cecilia Alcantar-Chavez, ASU's Undergraduate Student Government President of the Polytechnic campus, this year's event is special because it will be the first year she will experience it on a large scale at Sun Devil Stadium. She believes students also will feel energized and empowered by the immersive celebration.
"We will have music, dancing, food, pitches, art, and so much more. I am really excited to see all the ways that students are making an impact and inspiring others," Alcantar-Chavez said. "I think this year will be special because other than Sun Devil Tuesday's Freshman Welcome event, students don't typically go to the stadium for anything other than football games, so I think that seeing the place transformed for this event will be something special for students."
Sun Devils who are unsure what kind of project, performance, pitch or artwork to submit can lean on sustainability as a theme, said Zachary Sanders, Diversity and Inclusion Director for USG at ASU's Polytechnic campus. Another innovative focal point of Change the World 2023 is the collective goal to make this year's showcase a Zero Waste event, he said.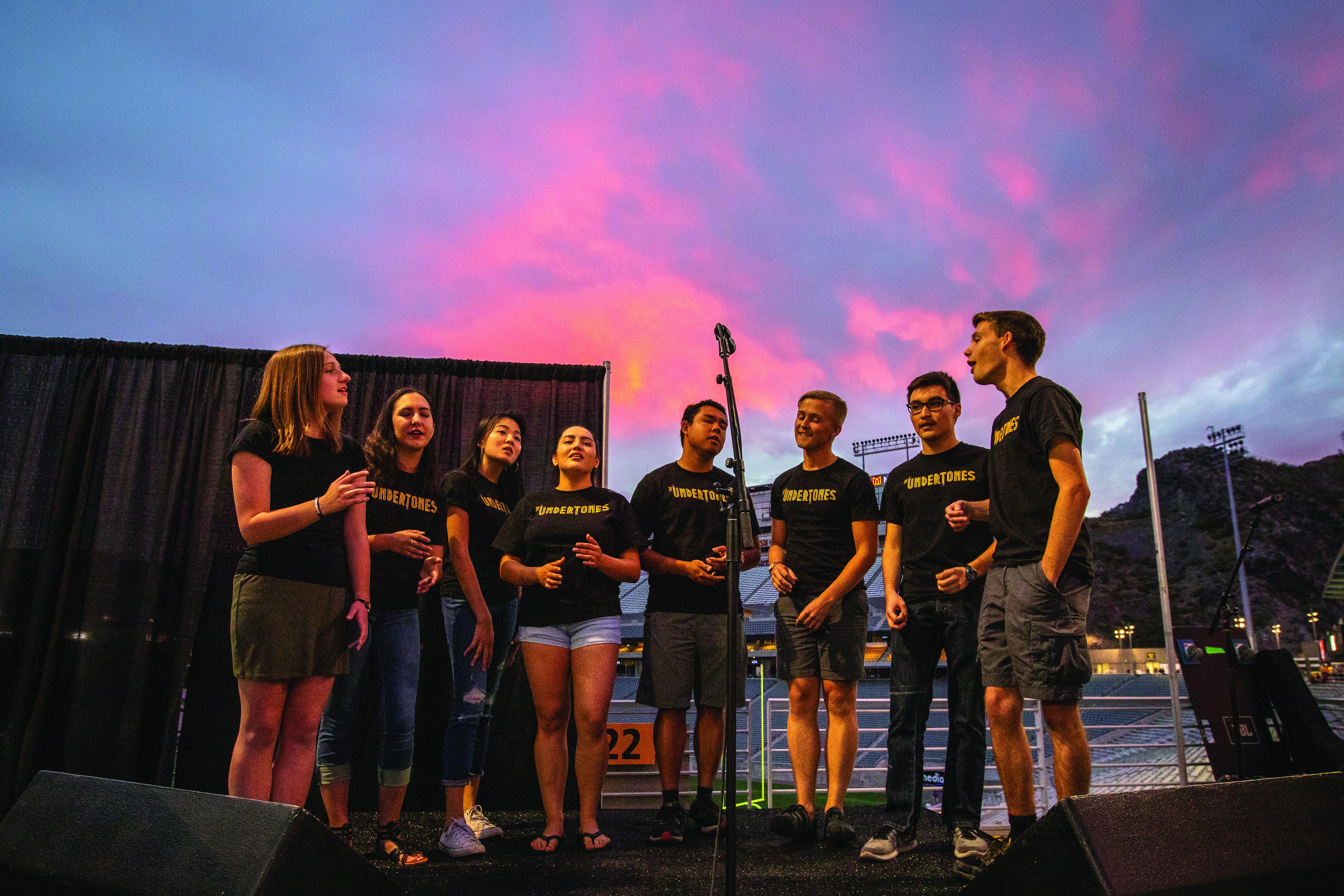 "We are attempting to bring back Change the World bigger and better than ever," he said. "We have thought up different ways to make the event immaculate, and this year we are focusing more on a sustainability theme."
In addition to launching the next big thing to make the world better, students will also benefit from the exposure a large-scale event like this brings, Sanders said. Think potential employers looking for their next empowered employee.
"The main purpose of ASU's Change the World is to showcase different talents and concepts that are thought of in the ASU community," he said. "This program makes it so that anyone with an idea can apply and attempt to showcase it to not only other students and faculty, but also companies looking for potential interns."
Students thinking of participating in this year's showcase can draw inspiration from their peers. A list of past winners is presented on the Change the World website. Past presentations include everything from an exhibit on keeping medications safe to a performance featuring a digital improvisation system to a photography art exhibit by the Poly Photo Club. Winning pitches focused on sustainability include:
Matthew Aguayo: Engineered coatings to reduce global carbon footprint and provide thermal comfort
Allen Matsika: Farai Pyro Waste to Energy Initiative
Hunter Colleran, Lindsay Erjavic and Danielle Vermeer: The Growing Hope Project
Both Sanders and Alcantar-Chavez said regardless of the idea, pitch, performance, exhibit or artwork any student is encouraged to apply and attend the event. "No matter how big or small the idea, pitch it," Sanders encourages. "You never know whether or not it could be the next big idea to change the world for the better." Alcantar-Chavez adds students should apply even if their concept isn't fully formed, as Change the World can be an incubator to develop something big.
"The most important thing for students to know about Change the World is that anyone can participate! You don't need some grand idea or fully-working product nor do you need to do it alone," she said. "You can share, for example, an engineering capstone project, an idea you have for business, or share information on community service you've done or a community project you've worked on. You could even share the impact that a student organization you're involved in has made on students or the community. Participating is important because it helps encourage others to also take on all the ways that they can change the world as well."
Students can register to secure space on the Sun Devil Stadium concourse to showcase their ideas through art, exhibits, performances and pitches at changetheworld.asu.edu.
4 minutes