Parenting students at ASU connect through Sun Devil Student-Parent Network
The Sun Devil Student-Parent Network is a new initiative created by ASU students to help build community among parenting students, while connecting them to resources to support their success in and outside of the classroom. 
Olivia Rines, a doctoral candidate in linguistics and applied linguistics, founded the student organization. 
"It is my baby, in addition to my actual baby," Rines said. 
The organization was in development for six months but officially formed in August of this year. While serving on an ASU committee focused on the health and wellness of students, Rines discovered a need for a community of parenting students.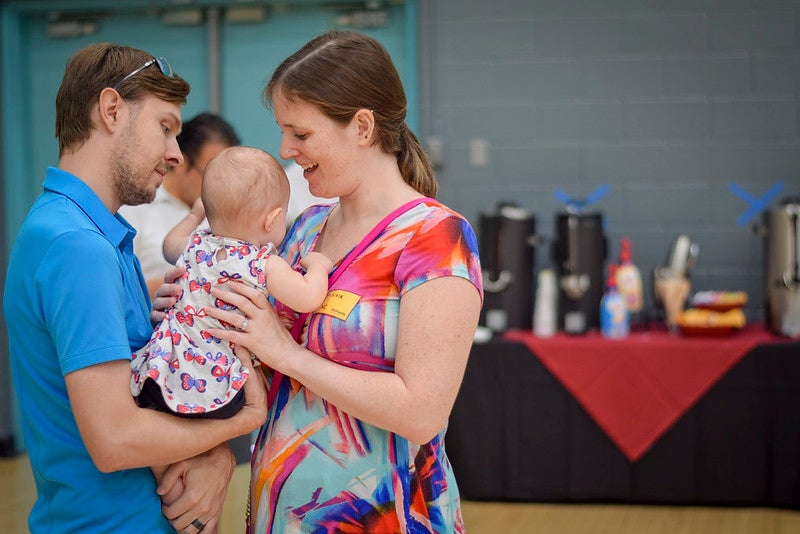 "This committee realized that a student organization for students who are parents didn't exist, but student-parents were clearly in need of support," Rines said. "I decided to start this organization to fill this gap. As a parent myself, I was as much in need of this support as other student-parents."
The network supports ASU students who are parents or have dependents they are caring for. Hosting events and providing resources for academic success and physical and emotional wellness, the Sun Devil Student-Parent Network is there to help these students succeed.
On Saturday, Sept. 7, the Sun Devil Student-Parent Network, along with ASU Family, hosted the organization's first event at ASU's Tempe campus to welcome students who are balancing school with raising children. 
According to the Institute for Women's Policy Research, 12% of students in public, four-year institutions are parents. And student organizations like this one are important in providing a community where these students can connect with each other. 
"Being able to share my experiences with other student-parents allows me to be a part of a community of people who understand what I am going through," Rines said. "It helps immensely to know that I am one of many students at ASU who are also parents."
One hundred students RSVP'd for the inaugural event, and attendees connected with resources such as on-campus child care, grant funding for parents and ASU Family resources. There were activities set up for the parents and children to enjoy while meeting new friends, connecting with campus resources and having fun. The family-friending event featured an array of  lawn games, including giant Connect Four and cornhole, as well as coloring pages and mural drawing.
ASU Family resources, Undergraduate Student Government, the Graduate and Professional Student Association, the Veteran's Center, Counseling Services, Student Advocacy and Assistance and the State Press were on hand throughout the event to share information regarding how they each can support parenting students. One of the things USG and GPSA promoted was the Sun Devil Child Care Subsidy — a financial assistance package funded by ASU's student government that students with children can use to help with child care for their children while they are in school. 
Alexus Gokool, an undergraduate student with a 2-year old son, was one of the attendees of the event. 
"This event gives me the chance to find a community of people who relate to me. And it helps me find more support," Gokool said. 
"The Sun Devil Student-Parent Network I think will help to provide a whole supportive environment to be successful at ASU."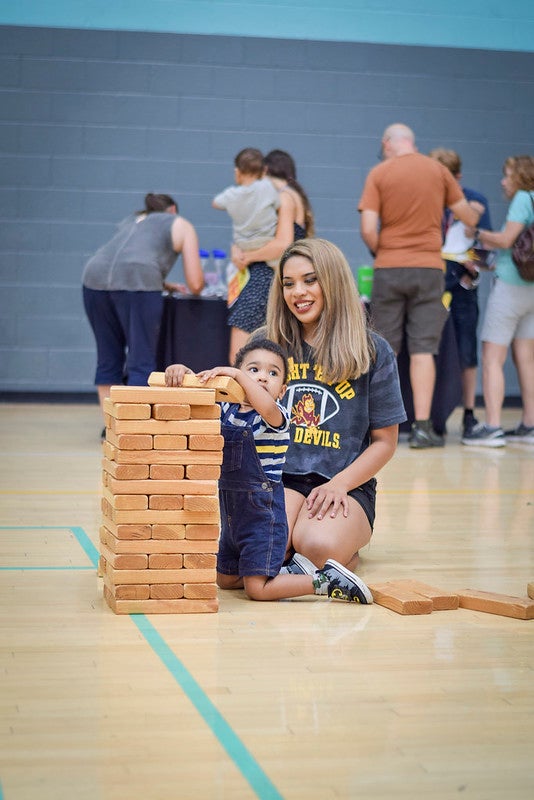 3 minutes