Ready to rock? 2022 Battle of the Bands and what Sun Devils should know about Devilpalooza
There are two questions Sun Devils ask themselves at the start of every spring semester. 
Number one, what artist will perform at this year's Devilpalooza concert? And number two, who will get the chance to open for them?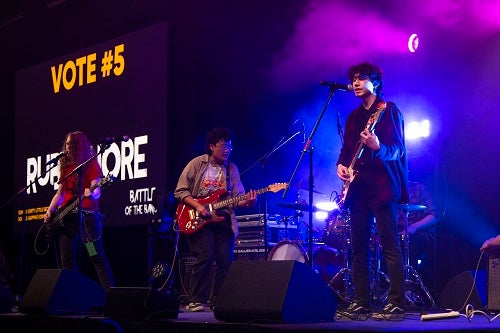 Devilpalooza is ASU's annual spring concert that is hosted by the Programming and Activities Board. The concert attracts more than 12,000 Sun Devils and is by far one of the biggest events on campus. 
In fact, the concert is so big that students across all four ASU campuses attend and get involved. 
The excitement that is generated for this event comes largely from the Battle of the Bands competition that takes place about two months before Devilpalooza. 
This year, a student band from the Tempe campus, Ruby Shore, won the Battle of the Bands competition. So they'll be opening for Chase Atlantic March 26 at the 2022 Devilpalooza. 
Ruby Shore is known for playing indie rock and is composed of four members, three engineering students and an ASU alum. 
Battle of the Bands is an annual event where student bands compete to get the chance to perform as the show opener at Devilpalooza. During the first round of Battle of the Bands, each campus hosts a battle to see what band is the best that campus has to offer.
It's a good way to build awareness of campus activities for the uninitiated. 
"Honestly I didn't even know this thing existed," said Bannon Clark, a sophomore journalism major and Battle of the Bands performer. 
Students get to vote for their favorite band and a panel of judges rank each band's performance and provide feedback. The top bands from each campus are sent to a final round, where they compete to open at Devilpalooza.
Clark, also known by his stage name Young BC, recommends all artists who are serious about their music participate in Battle of the Bands. 
"I'd recommend anyone to do this. It's a fun time and the people here are amazing," Clark said.
Sun Devils don't have to be in a band to get involved. In addition to live band performances, each competition also had multiple student organizations present giveaways for students, raffles, photo booths, food and more. 
Abigail Hopkins, a first-year student studying criminology and criminal justice and first-time Battle of the Bands attendee, explained that the on-campus experience and level of student involvement surprised her. 
"Everything was basically just out of the blue. It was surprising. It was great and I've had a really great time," Hopkins said. 
Bands who participate can also use the competition as an opportunity to share their music with new ears. 
It's a great way to reach new audiences and find new groups of people who might like your music, said Clark. 
"You get to hear a lot of types of music. I came out because I wanted to have a good time and I wanted to see the finale," Hopkins said.
The Battle of the Band finals took place on Feb. 2 at the Downtown Phoenix campus, and since then Sun Devils in the PAB have worked  tirelessly to plan for Devilpalooza, which will take place this Saturday, March 26, featuring the  Australian alternative R&B band and production trio Chase Atlantic on the Sun Devil Fitness and Wellness Complex fields on the Tempe campus.
According to Haily Fadden, Devilpalooza 2022 director and junior business management major, this year's spring concert will be like no other. 
"When you step foot in Devilpalooza, you're going to be pretty shocked,'" Fadden said. 
Devilpalooza isn't just live music, it's a festival for students, said Fadden. 
"We are trying to show Sun Devils that this is a new experience. This isn't what a typical Devilpalooza looks like," Fadden said. 
"They're going to really, really see something special," Fadden said.
Get your Devilpalooza pass on Sun Devil Sync. 
4 minutes