Student's college experience transformed via membership in ASU Esports Association
When the pandemic reached its height a couple years ago, Jesse Brawders remembers having extra computer time with in-person activities being somewhat limited.
In his first-year as an Arizona State University student, the avid video gamer turned that into a positive. Jesse used his new membership in the ASU Esports Association, one of the university's many student clubs, as a way to make new connections online.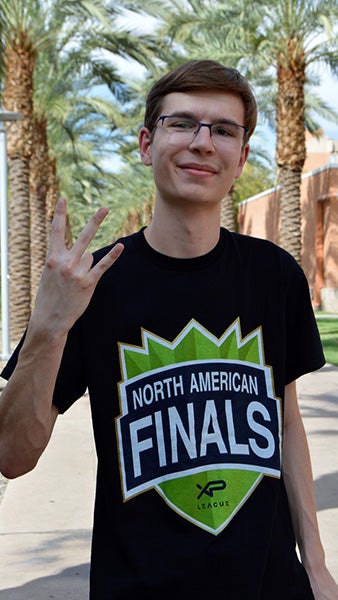 "I joined the club's discord server as soon as I was admitted into ASU, so I could learn more about the club and the teams. Once I started at ASU, being in this organization helped me interact with others when we were basically hanging out in our dorm rooms due to COVID-19," Jesse said.
Now in his third year studying sports journalism at the Walter Cronkite School of Journalism and Mass Communication, Jesse said his tenure with the student club has been transformational.
"The overall experience has been life-changing, with becoming friends with so many amazing people and having opportunities to improve myself and the organization. Without joining ASU Esports, I would not be in the position that I am and would not have met so many incredible people that I am so happy to call my friends."
Jesse, who grew up in the small town of Jefferson, Wisconsin with his parents and identical twin Jacob, is very involved on campus and in the club. Starting out as a player on the JV Overwatch esports team, he has advanced to become the president of ASU Esports.
"The most impactful thing has been my time with the ASU Esports Association. I've been able to work with amazing people and companies over the last two years, while trying to continue the legacy of one of the largest and most successful student-run esports clubs in the entire country."
Now in his third year studying, Jesse is also a member of ASU's official student radio station, Blaze, and has his own weekly radio show. Outside of ASU he also does freelance esports commentating — better known as casting — for a variety of collegiate esports matches around the country. He also coaches for a youth esports league (XPL) based in Tennessee that has teams from around the U.S. and Canada.   
Jesse points out that esports and online gaming were already surging in popularity prior to the pandemic, featuring competitions with large venues and rich prize pools.
"When the pandemic hit, it expedited the attention and popularity of esports as there were no other sports going on due to health concerns," he said. "There were a few weeks where there were no competitions as everything shifted to online. It was a sense of normalcy that helped esports to capitalize on those who were itching to watch competitive games, with most of them sticking around as fans after traditional sports returned."
Things are now back to normal with ASU's esports club, where dozens of students gather regularly for LAN events (in-person esports tournaments where gamers compete with each other through a local area network), online community events on Discord servers, and other activities. Jesse said members can also try out for their competitive teams that play Valorant, League of Legends, Overwatch 2, Rocket League and other games.
While members of the ASU esports community love their gaming time, Jesse will be the first to advise fellow students to limit screen time and prioritize studies. Currently excelling in the competitive Cronkite School on ASU's Downtown Phoenix campus, the Wisconsin native always puts his coursework ahead of play, just like with any extracurricular activity.
Balancing classes, homework, personal responsibilities and his esports club duties is a never-ending battle that takes constant adaptation, Jesse said.
"I have learned to plan out my weeks, setting time aside for homework and studying, while also giving myself time to mentally reset and relax before another crazy, and sometimes unpredictable, week. I always get my schoolwork done before I even think of playing, just so I know I have all of my responsibilities finished before potentially getting distracted playing games with my friends."
For the families of younger students, who may be worried their children are spending too much time playing video games, Jesse says it's about finding a healthy balance.
"The advice I would give parents is the same thing I tell my players in XPL (the youth esports league) and their parents: Make sure you can create a healthy and reliable system to balance your screen time and life away from video games. A huge asset for me personally is running, whether it be around my neighborhood or in the gym. It helps reset my mind and gets me away from constantly being on my screens."
As for college students, Jesse recommends they set aside at least one extra hour a day, outside of classes, to focus on coursework and maintain that healthy balance.
"Put Discord on 'Do Not Disturb,' hide your phone under your bed and just focus on what you need to do. At the end of the day, we are at college to further our education, so that needs to remain your focus throughout the school year. But don't forget to have fun. If you are ahead on assignments, play some games with your friends and don't be afraid to stay up a little late, or go out with those friends to dinner and get out of the dorms."
The Cronkite student said parents can usually spot signs of excessive screen time. Suddenly falling grades or multiple assignments being handed in late are easy tells — and the student may need a nudge to refocus, he said.
While many parents worry about possible negative effects of online video gaming, Jesse said his experience has been overwhelmingly positive. There are many personal and career-related benefits from playing esports, including learning communication, leadership and teamwork skills that can really set someone apart from other job applicants.
"On the personal side, you can really learn a ton about yourself through esports," he said. "For me, I have gained so much confidence through working in esports, as well as meeting people that I am blessed to call lifelong friends."
As he prepares to complete his third year at ASU this spring, Jesse is already thinking about a journalism career that might incorporate his passion for esports.
"I chose my major because I've always loved sports and have wanted to work in the sports industry. At the moment, my dream job would be being a full-time esports color caster. It combines everything I'm loving doing during my time at ASU, and the industry itself is expanding rapidly."
Editor's note: This article first appeared in the winter 2022 edition of MASK (Mother's Awareness on School-Age Kids). Learn more about MASK on the ASU Family website.
6 minutes