Students support mental health among peers
Stress, anxiety, depression, and loneliness and a reluctance to share mental health struggles affects many college students, and Sun Devils are no exception. Two doctoral students serving on ASU's School of Life Sciences E-Board are providing mental health support through peer mental health programs they have initiated.
Studies show peer-to-peer interaction among college students reduces the stigma attached to mental health concerns.  ASU doctoral students Xyonane Segovia and Olivia Davis hold Coffee & Conversations and a monthly Brown Bag seminar to offer students a safe space to talk about mental health and reduce stress, anxiety, depression, and loneliness.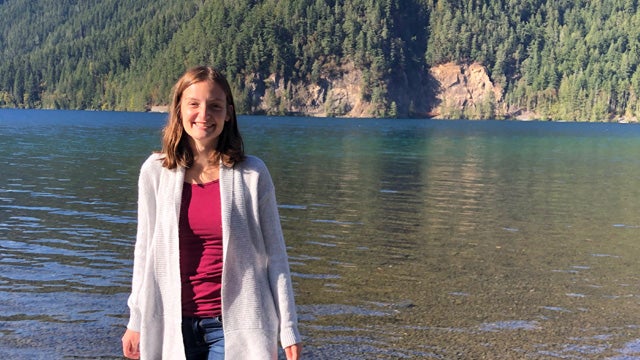 According to a 2022 survey conducted by the Mary Christie Institute and the Association of University College Counseling Center Directors, "young adults have been shown to have a powerful impact on one another, specifically on well-being measures." This is certainly the case at ASU: Peer interaction among college students definitely reduces the stigma of talking about mental health said Carrie Monica, Associate Director, ASU Counseling Services. Providing this opportunity leads to better outcomes in the treatment of mental health struggles among college students, she said.
"Mental health stigma is associated with the lack of awareness and understanding of mental health conditions that often results in not knowing how to respond to someone who needs help. Or not knowing where to point to for help," Monica said. "I truly believe that people want to be helpful to someone in distress, but don't necessarily have the skills or confidence to do so."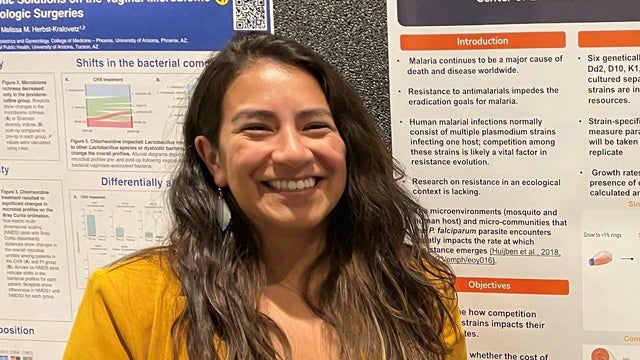 Segovia and Davis work as part of the School of Life Sciences E-Board Mental Health subcommittee to champion student mental health awareness and services. During their Coffee & Conversations peer-to-peer interaction opportunities, students are invited to share their experiences and discuss mental health issues with a counselor from ASU Counseling Services present. Segovia and Davis also are trained in presenting the Roadmap of Support presentation, a training tool that walks students, staff and faculty through the comprehensive steps of how to help a student in distress, Monica said.
"By following the steps of 'Be aware, connect, refer, and follow-up', the hope is that (students) feel more confident and equipped to address and respond to common student mental health conditions," Monica said.
Segovia said the Roadmap of Support training she and Davis have received centers around recognizing signs of distress in others, and how to help. She said it is a type of "CPR training for mental health," and provides multiple resources that can help alleviate the stress of not being equipped to handle the intimate sharing of mental health issues from a peer. She also hopes mental health discussions become part of daily life on campus, starting with course information.
"First off, mental health should be an everyday conversation type of thing," Segovia said. "Syllabuses should include information regarding mental health, signs and symptoms of crisis, and what to do if you or someone you know is experiencing these things."
Davis expounds on the importance of training staff to recognize the signs a student is struggling with their mental health, which will help normalize mental health issues in academia and science. She hopes this will lead to more students getting the resources and help they need.
"Xyonane and I have been focused on training graduate faculty/advisors/peer instructors, as they are very much student-facing and usually work most closely with students in this high stress work environment that they are in," Davis said. "What I really like about the Roadmap of Support tool is that it doesn't have the supporter (in many of our focused efforts, faculty) be therapists, but instead allows them ways to recognize signs of distress in students, and how they can support them."
Through her work and training on mental health issues facing college students, Davis said students want to help their peers, but often do not know how to discuss the topic and are afraid of saying the wrong thing. Her advice, based on her work with the Roadmap of Support tools is this: Practice active listening and be open to what the other person is saying.
"Often, it can feel overwhelming not only for the student going through the crisis, but the student's friends and peers who want to help," Davis said. "They don't want to say the wrong thing. The most important things to be for a person going through something is to be an active listener and empathetic. This connects really well to the great training we've received from ASU Counseling services."
Davis and Segovia share the tools that their peers can use when a fellow student has shared their mental health distress. Gleaned from their training and resources from ASU Counseling Services, they can be a life-line for those in need. Davis also adds an important reminder to Sun Devils who may struggling with their mental health. "For anyone reading this who is struggling with mental health, know you are not alone. You are loved, and you are valued for being you."
To learn more about how to become trained in the Roadmap of Support and engage in peer-to-peer mental health promotion outreach, contact Caroline.Monica@asu.edu.
Mental Health Resources for ASU Students
ASU Counseling Services:  same day, in-person and telehealth appointments available at Downtown Phoenix, Polytechnic, Tempe, and ASU West locations, walk-in, call 480-965-6146, or schedule appointment online on ASU My Health Portal.
ASU Counseling Services Open Call and Open Chat
360 Life Services for ASU Online students
ASU's dedicated 24-hour EMPACT Crisis line: 480-921-1006
Devils 4 Devils:  creating a safe and caring community
Check Sun Devil Sync for upcoming SOLS E-Board events and discussions.
5 minutes