Sun Devil football starters on why the student section matters
Does it really make a difference to Sun Devil football players to have a packed student section?
Sun Devil football quarterback Jayden Daniels, linebacker Connor Soelle and defensive back D.J. Taylor sat down with ASU Student Life reporters  Madeleine Williamson and Connor Newton this fall to talk about why the Inferno student section matters to them on the field and what their lives are like as student athletes.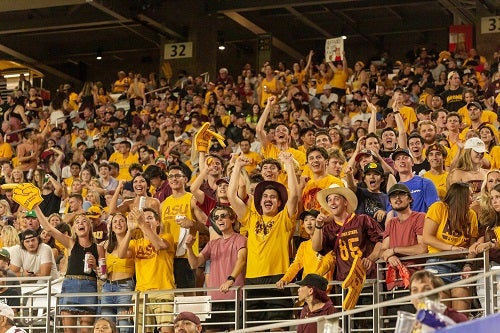 Though they have many pressures that are distinct as student athletes at a large university, the three starting players said their interests and favorite places may ring true to many ASU students. 
They love to study or meet up with friends at the Memorial Union or the Dean's Patio, and they have hobbies and extracurriculars that help them connect and unwind. Daniels said the team bonds and blows off steam with video games, and Taylor said he'd be interested in joining a fashion club if he had time. 
"I see other people's fashion; it's a form of art. So I think I'd just want to be in a fashion-art type of club," Taylor said.
Soelle said that participating in Greek Life has been one of the most rewarding parts of his student experience so far at ASU, especially in the spring off-season.
"I would say my favorite memory. I'm actually a part of Greek life at ASU. I'm in a fraternity, Lambda Chi Alpha," Soelle said. "Just be able to go out with my buddies and just have a good time. Just kind of forget about school and football for a little bit and just be a kid for once … that's just my greatest memory so far." 
But, of course, their focus in the fall is also on preparing for gameday. And the athletes agree that there is an element to home games that gives them an advantage: the Inferno student section. The Inferno is the spirited section at the southern end of Sun Devil Stadium where students gather to wear gold (or theme colors!) and get loud with the many ASU football traditions to cheer the team on to victory. 
The students in the stands may wonder, do all the traditions and cheers make a difference on the field? The answer is unequivocally yes. The players can hear the Inferno, sometimes specific chants but definitely noise and energy.
"It does make a difference, especially like what we experience on the road," Daniels said. "You know, [our opponents'] student section made a difference. So you know, we want to bring that same energy here, have teams have trouble hearing their calls and communications. So we get penalties on them and just stuff like that."
The Inferno traditions and the 942 Crew students who lead the cheers from the front of the student section are specific about HOW to cheer on the team. One important tradition is to be quieter when the Sun Devils are on offense, so the team can communicate. But when ASU is on defense, make as much noise as possible, to disrupt the opposing team. It often works, as visiting teams are unable to hear snap counts or play calls, especially near the south end zone.
"[You] can't replicate the noise that comes from the Inferno. And just that entire south side of the stadium is just amazing, especially on like a big third down or a big play for the offense, just hearing everybody get up out of their seats and just scream at the top of their lungs," Soelle said. "It's just a really amazing feeling. And it's definitely something that as players on the field, it messes with our opponents and the teams that travel here to play." 
Taylor said that hearing the student section come alive just also makes the game more enjoyable and motivating.
"Yeah, just like the student section makes them more fun. Makes you want to play with a purpose, like have a fan base that's the same age," Taylor said. "You're out there to just root on the football team. It just feels great." 
These Sun Devils appreciate what the fans do to support the team, and they encourage all students to come experience gameday for the rest of the season (tickets are free for ASU students!).
Daniels said that the energy from the Inferno is something that has made a huge impression on him since his very first visit to ASU, and he urges ASU students to not miss out on an unforgettable part of student life.
"Football games are part of your experience in college. You'll never get those times back," Daniels said. So I just say come out there and experience something new. You might like it at the end of the day." 
Watch the full interview with Daniels, Soelle and Taylor. 
Reporting by Sun Devil Storytellers Madeleine Williamson and Connor Newton. Asa Culver contributed to this story.  
4 minutes