Sun Devil grad student rekindles her relationship with the Deaf community at ASU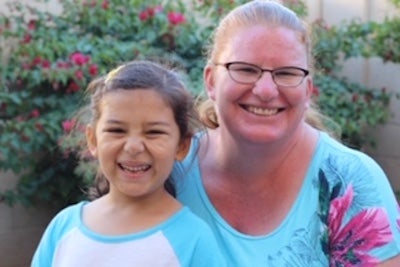 Emilee DeGraaf graduated in spring 2020 with a degree in speech and hearing science, an area that she has been personally involved with from a very young age. When she was about 2 years old, she lost her hearing and began attending an oral deaf program that de-emphasized American Sign Language and Deaf culture. That was a complex experience.    
"I was removed from the oral deaf program and inserted into full-time mainstream education as soon as my teachers determined that I was ready," she said. "Academically, I did well. Socially, not so much. In removing me from a setting where I had something in common with my peers, I lost my connection with the Deaf community."
DeGraaf rekindled her relationship with the Deaf community many years later, when she decided to study speech and hearing science at ASU. Her decision to return to school was not an arbitrary one. DeGraaf experienced another personal tragedy when her husband was arrested and her child was temporarily removed from her home. Once she was reunited with her child, DeGraaf began to think about the aspects of her life that she valued the most.  She then decided that it was time for her to find a job that she felt was meaningful and rewarding.    
She began researching potential career paths that would support her financially while also incorporating her passions. Her search led her to a field that involved her interests, had growing employment opportunities and would allow her to work with children in the Deaf community: audiology, a health care practice of treating auditory and hearing issues.  
"Why not go back to school and become an audiologist? Why not take this opportunity to, slowly but surely, immerse myself back into the Deaf community? I would be an excellent role model for the families I would someday serve," she said. 
DeGraaf believes that her experience in the Deaf community and as the mother of a child with special needs will help her relate to parents once she is an audiologist. After graduation, she began graduate work in ASU's auditory and language neuroscience program.  
DeGraaf was also involved with Student Accessibility and Inclusive Learning Services at ASU during her undergraduate study. The communication access real time translation (CART) services were particularly helpful for DeGraaf. She received transcriptions of class lectures and conversations to help her access her coursework.
"The assistance I received from Student Accessibility greatly affected my education," she said. "Without them, I wouldn't have been as successful in my academic career."
DeGraaf shared some of her advice for Sun Devils as she transitioned into graduate school at Arizona State University.   
Question: What was your "aha" moment, when you realized you wanted to study the field you majored in?
Answer: Once I learned, through research, that employment opportunities for audiologists is expected to increase in the near future and that the greatest need is for audiologists skilled in working with infants and children, I had my "aha" moment. What could be a better fit? There I was, a deaf and hard of hearing woman with a special needs child of my own.
I spent my entire life in the hearing world and considered myself to be "culturally hearing." Why not go back to school and become an audiologist?  Why not take this opportunity to, slowly but surely, immerse myself back into the Deaf community? ...
I will be continuing my education at ASU in the master's program and hopefully in the doctorate of audiology program. I plan to have the helpful support of Student Accessibility with me every step of the way. 
Q: What's something you learned while at ASU — in the classroom or otherwise — that surprised you or changed your perspective?
A: I have to say that I was quite surprised by the many resources available to me through Student Accessibility. So much has changed since my last educational experience. CART services were not available when I was younger — now, it's literally everywhere. Technology has made it so much easier for me to access the accommodations I need in the classroom and in life.
Q: Why did you choose ASU?
A: To be honest, the decision was made for me. Once I decided upon speech and hearing science as my major, ASU was the only local college that offered the undergraduate program I needed. I was also attracted by the fact that ASU has a highly rated audiology program, so I would be able to seamlessly continue my education without having to start over at a new school.
Q: Which professor taught you the most important lesson while at ASU?
A: The most important lesson I learned while at ASU wasn't given by a professor, per se. Rather, it was delivered through the material I learned while taking the Deaf culture class with Hannah Cheloha. Up until that point, I felt very much alone in my hearing loss and had very little knowledge of Deaf culture. It was through this class that I gained more knowledge, learned to be more confident and learned how to be a better advocate for myself. I learned that it is OK to speak up and let others know what I need from them.
Q: What's the best piece of advice you'd give to those still in school?
A: The best piece of advice I can give is to not be afraid to ask for help.  Whether or not you have a disability, there are many resources available to help you be successful in your academic career. Take advantage of them.
Q: What was your favorite spot on campus, whether for studying, meeting friends or just thinking about life?
A: I didn't have a "favorite spot"— just those that I frequented often because it was convenient. The two spots that I frequented most were the Coor Computing Commons and the quiet study room in the back corner of Hayden Library.
Q: What are your plans after graduation?
A: I plan to continue my education at ASU in the master's program for auditory and language neuroscience, while continuing to be the best mom I can be for my daughter.
Q: If someone gave you $40 million to solve one problem on our planet, what would you tackle?
A: If someone gave me $40 million to solve one problem, I would definitely address the disparity in hearing health care and deaf education, especially for children. Children with hearing loss should be given access to hearing solutions and quality education, regardless of the family's ability to pay.
5 minutes