Sun Devils design meditation pods for mindfulness and creativity
Sun Devils have access to beautiful locations for studying, relaxing or hanging out on all ASU campuses. What a group of students thought were missing are places where students can immerse themselves in creative and artistic visual experiences for mindfulness and mental health. 
In January, the Herberger Institute for Design and Arts hosted the 12th annual Interdisciplinary Cluster Competition, where the students proposed an idea to address this issue.
The annual competition hosted by The Design School "fosters cross-disciplinary collaboration among our junior students, providing students an opportunity to apply design thinking to solve real-life design projects."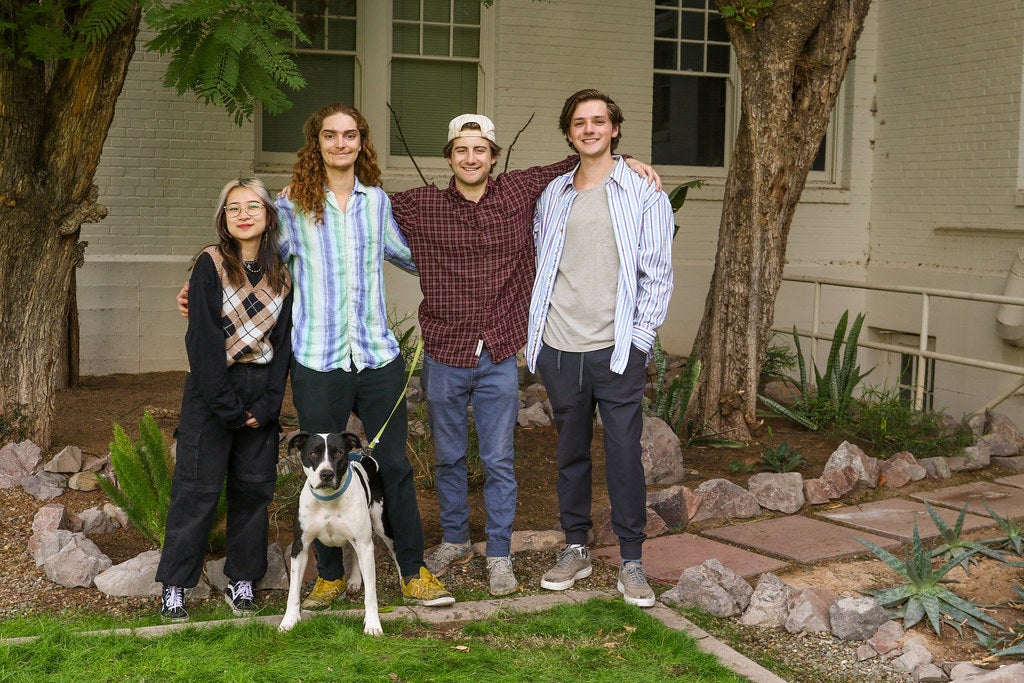 One of the main intentions of the competition is to bring students together in an interdisciplinary setting for a 10-day design challenge to solve a problem on campus. For the last two years, the competition was focused on creating new community spaces within Sun Devil Stadium. This addressed the issue of how to use the stadium during the 358 days of the year that there are no football games. 
This year, the contest challenged students to imagine ASU's physical and digital infrastructures as environments that foster innumerable interpersonal connections that work together into an overall sense of community and what that community might look and feel like if enhanced, revealed, challenged or changed.  
Students designed "third spaces" on campus to integrate digital aspects of ASU into physical spaces. A Third Space, described by sociologist Ray Oldenburg, is "an area outside of home and work that serves as a place to find comfort, retreat and community." The spaces would act as outlets for non-hierarchical dialogue in which students can freely discuss ideas and philosophy outside the classroom. The trick with this competition was successfully integrating the digital with the physical to create a new experience to offer students.
Nearly 50 groups of up to five students from different majors and backgrounds collaborated on proposing these third spaces. The top ideas included a modern adult art playground on Hayden Lawn, an ASU cooking app called Fork that aimed to connect people through their mutual love of culinary arts and an app concept called Niche that aimed to connect ASU communities based on specific interests. These groups exhibited tremendous design ability in their video and models. 
The winners, Group 55 , introduced a concept called A.N.T Farms. The intention of the design is to establish meditation pods around campus that integrate art, nature and technology into several immersive art experiences across ASU's campuses.
The prototype design of the pods uses a 360-degree immersive virtual reality technology called Immersiview. Visually the pod will look like a 20-foot, dome-shaped igloo. Inside there will be four to six laser projectors and a surround sound system. Up to 10 people can be inside using the pods for  immersive teaching environments or art therapy. The design allows for easy build and takedown, encouraging innovation and student involvement to change and improve the experience. Immersiview offers a software that organizes the library of VR resources in one user-friendly platform. 
The acronym A.N.T farm stands for art, nature and technology. Each of these applications of creativity are to be implemented in the experience of the pod. Art therapy will be available; in addition students will be able to display their own art seamlessly through the portal platform. The nature aspect will offer journeys deep into the world's most beautiful locations, all associated with different study abroad programs that are available here at ASU. Finally the technology aspect looks to cultivate a healthier relationship with technology that draws attention away from smart phones and pulls them into a realm of mind-bending visuals and authentic experiences. 
Steven Tepper, dean of the Herberger Institute for Design and the Arts and one of the contest judges, was impressed with A.N.T Farms and how the team took the student experience into perspective. 
"The A.N.T Farm is an idea that is plugging into a campus commitment to wellness and mindfulness. This proposal is connected with already existing interest and desire to find these kinds of spaces for students," Tepper said. 
Member of Group 55, senior astrophysics major JT Arnot, 21, is proud and passionate of the work done by his team. 
"We created A.N.T farms with a focus on merging eco and art therapy into immersive visual experiences. We see far too many statistics on a daily basis of the mental health plague, and I personally think the misuse or abuse of technology holds a large responsibility. I believe A.N.T farms will help pave the way for the ASU collective to cultivate a future relationship with technology that gives priority to mental health and creative expression," Arnot said.  
The group's main focus was to integrate factors of their own lives outside ASU's campus — factors which they believed helped them practice mindfulness and creativity — into their everyday campus activity, as a means of perpetuating the idea that students from every facet of life need to take moments throughout each day to be introspective. 
Arnot along with other members of the group are looking to work with The Design School faculty and ASU to implement their ideas on campus by fall 2021. 
To learn more about the Interdisciplinary Cluster Competition and previous winners, visit the Herberger Institute page or watch this informational video.
5 minutes