This year, the Inferno student section is a first for many Sun Devils
In fall 2021, both first- and second-year Sun Devils were experiencing an unforgettable part of the ASU experience for the first time: their first football games at Sun Devil Stadium. The Inferno student section is made up of thousands of spirited Arizona State University students at football games and other Sun Devil Athletics events. 
The traditions and experience that go along with being a part of the Inferno for football, basketball, baseball, softball and other sports' seasons are a must-do, especially for new Sun Devils.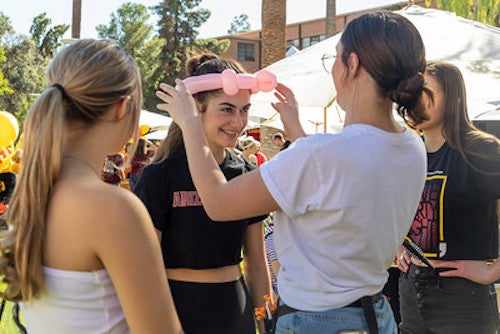 After several cancelled seasons, ASU students have been enjoying gathering to cheer on the Sun Devils. 
"I'm really grateful; I've met a lot of sophomores, and to have their first year completely online and they didn't have any of those welcome events … I'm grateful that I get to experience my first football game as a freshman," said first-year biological science major Rashmi Mulam. 
Mulam enjoyed a new addition to game day traditions this year — Sparky's Touchdown Tailgate —  with first-year psychology majors Aaliyah Ortiz and Kristin Moutaz at the second home game of the season, when the Sun Devils played the University of Nevada Las Vegas. 
Mulam, a seasoned football fan, said "I was pretty involved and went to all of my high school football games; I was thinking of doing the same in college."
Ortiz and Moutaz said they were both "here for the experience."
Ortiz explained that it's more about the atmosphere than the game itself. 
"I don't really get football, but it's fun to be in the crowd," she said.
Meanwhile, Moutaz is a different kind of fútbol buff. Despite being a soccer fan, being out and about on game day made Moutaz reflect on what Sun Devils have been missing out on since 2020.
"It's just so bad like having to go through our senior year in the pandemic and not living it," Moutaz said. "I'm seeing other sophomores; it's like their first time here and they're like freshmen. They're the same as us, so I'm so happy I am getting the full experience."
Ortiz was just as excited as her friends to be back at in-person events, but as we can all attest, excitement never comes to the party alone. Its semi-toxic partner, anxiousness, always manages to squeeze in before our brains can shut the door. This becomes especially true for college experiences like being on your own for the first time, your first class and even your first football game.
"It's very nice to be able to experience all the events that I've always read about, but I'm also a little nervous; I know if we shut it down, it's gonna be a big deal," Ortiz said.
We did shut it down and it was a big deal.
Recounting their first football game while they were mere minutes from experiencing their second one, the group agreed that they were catching on to Inferno traditions fast. 
"We're pretty good at getting the chants going. I was really impressed with that," Mulam said. "The formations the whole halftime show made were pretty cool. We have a lot of pride."
The chance to show Sun Devil spirit has been a long time coming for many students.
"It's very nice to be able to experience the first year online and go to all the events that I've always read about," said Ortiz.
Now that ASU men's and women's basketball seasons have started, Sun Devils have another chance to ignite the Inferno student section with a whole new set of traditions, including the Curtain of Distraction.
As always, ASU students can download free tickets to Sun Devil Athletics events on the ASU mobile app. Check out the schedule for women's basketball and men's basketball now, and claim your ticket. Follow Inferno Insider for student section updates. #ForksUp, Devils!
3 minutes