ASU journalism major follows breaking news to D.C. internship
Bryan Pietsch is a recent ASU Cronkite grad who has already begun his promising career in journalism. He had several exciting internships in his time as a Sun Devil, and he shared some of his tips and insights for other students for the Sun Devils at Work series.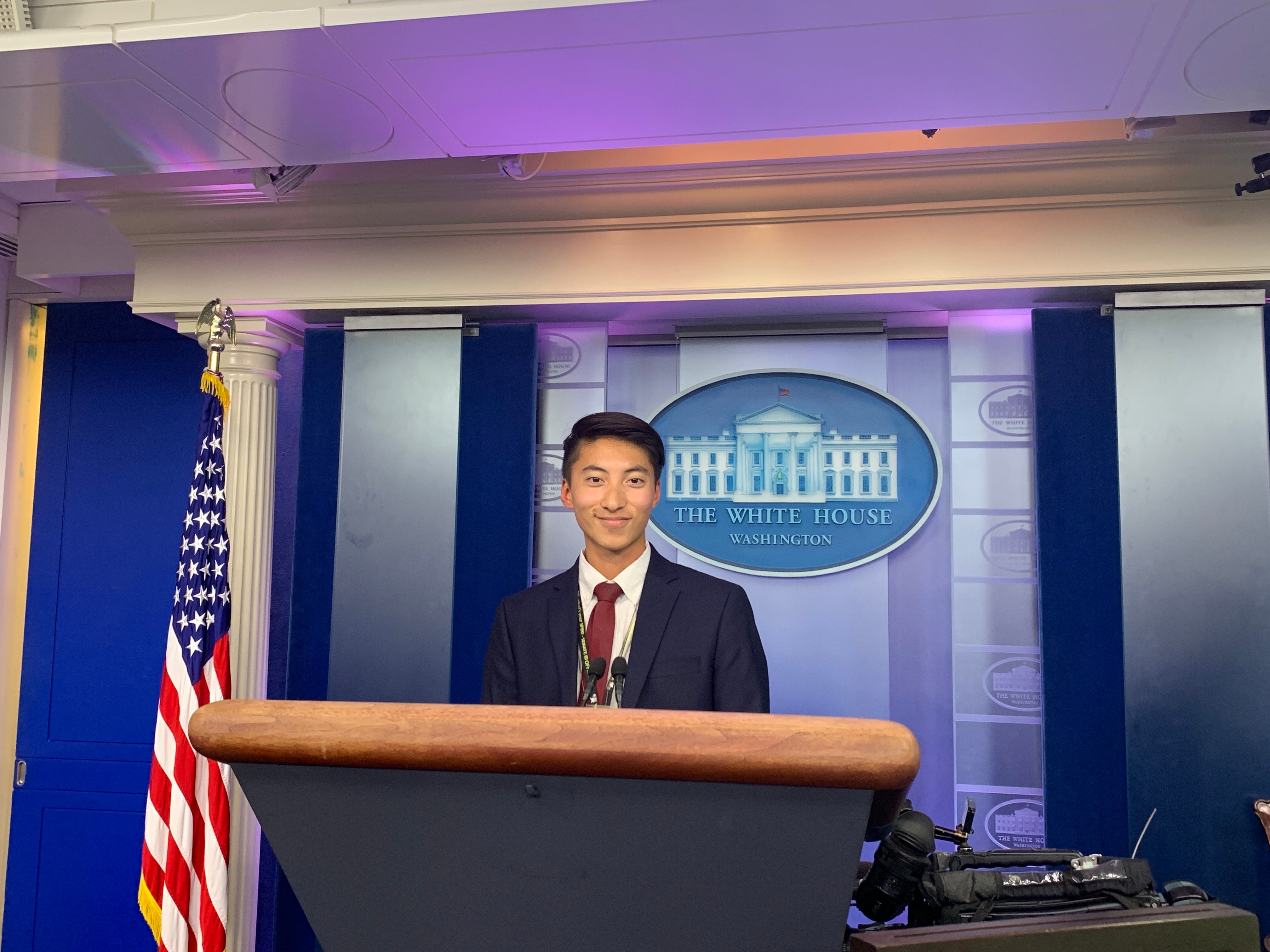 What was your internship and where was it located? 
I was an editorial intern at Reuters News in Washington, D.C. 
What was a normal day like? 
The fun thing about journalism is that your day can be black and white from one day to the next. I also loved my internship because they treated me like a fully functioning reporter. I reported and wrote my own stories but with the guidance of a really great editor. 
Most of my days included covering breaking business news like decisions about expensive military contracts, attending press conferences and reporting from congressional hearings. 
But as an intern, I also got to report from a variety of events, such as a Women for Trump event in suburban Virginia. 
One of the most unique days was doing White House pool where I was part of the group of reporters who questioned the president on the South Lawn before he got on the Marine One helicopter. It was definitely a memorable experience to have the president answer one of your questions. 
One of my favorite stories was one that I reported from the Pentagon, which in itself was a really amazing experience. It was about the Pentagon's holding of funds for construction projects so it could send money to fund the border wall, and my story was shared widely on Twitter by politicians and celebrities. 
Getting to leave work at the end of a (sometimes very long) day is always rewarding when you remember that people are reading the work that you put out. 
What was the most useful or interesting thing you learned?
Reporting at Reuters was a really helpful learning experience in understanding the "so what" of larger or longer issues or stories. I really got to understand the significance — the "so what"— of political or business decisions and asked myself, "How does this change things? Is this monumental or incremental?" 
Adjacent to that, I learned more about stories that move markets: stories that push stock prices of a company up or down. To be surrounded by reporting that can move huge amounts of money on a piece of information was a really, really cool experience. 
What are your career aspirations? 
I'd like to work in business journalism, ideally at the intersection of the public and private sectors, focusing on how government decisions impact business decisions and vice versa. Political reporting is really interesting and important, but I think business news is especially interesting because of how nimble businesses can be, resulting in dynamic, colorful stories that, as I mentioned earlier, can result in huge financial impacts. 
How do you think your internship will help you achieve your career goals? 
Reuters is a really respected news organization and has a reputation for being trustworthy and producing high-quality journalists and journalism. My stories there definitely help me when talking at job fairs, in interviews and at industry conferences. The lessons I learned there will help me in all my future reporting. 
What advice would you give to other interns?
Never be afraid to ask for help. Everyone in your organization started somewhere, and most people are eager to help a student or younger person in their field. 
Along the same lines, strive for humility and learn from your mistakes. It sounds cliche, but it's a really great way to learn. Your supervisors and colleagues at your internship know you're just that — an intern — and are willing to help you learn. Your company will expect you to have a solid base of experience and skills, but they don't expect you to have the skills of someone who has had an extensive career in the industry. 
But that leads to another benefit of being a younger person: Most people are excited to have your unique perspective as someone from a different background and most likely a different generation. Don't be afraid to speak up and share your thoughts. 
What tips do you have for finding an internship?
Journalism can be a really hard industry to find positions in, so things like industry websites or industry conferences are a really great place to start. 
Also, having a strong profile on LinkedIn and a strong presence on Twitter (in journalism, specifically) is really helpful. 
Be ready to talk about what you want out of an internship and what skills you bring to the table. 
What are your plans for the future?
I just graduated from ASU, and now I'm a business news fellow at Business Insider in New York City. [Pietsch was also named a New York Times Fellow and starts in June 2020.]
4 minutes